Today's
Knitting Daily
on UFOs got me to thinking. Where am I at with my projects and why? I don't have too many OTN but there's a couple that I haven't touched in a while. With all the focus on racing recently I've been knitting, just not posting about it. Allow me to bring you up to speed:
The Surface-Woven Tote - my favorite project at the moment. This pic shows much more accurate colors. You can't see the texture or purls or even the size of the piece I just casted on. It apparently blended in to the front/back pieces really well. I'm about 8 inches into a 50 inch piece. After that is the blocking and lining. Knitting Daily referenced some blocking techniques (
here
and
here
) and suggestions so I think I'm going to be okay. The lining... well, we'll see. I'm really excited about picking out a pattern
here,
but not so excited about sewing although
Polly
has been very encouraging.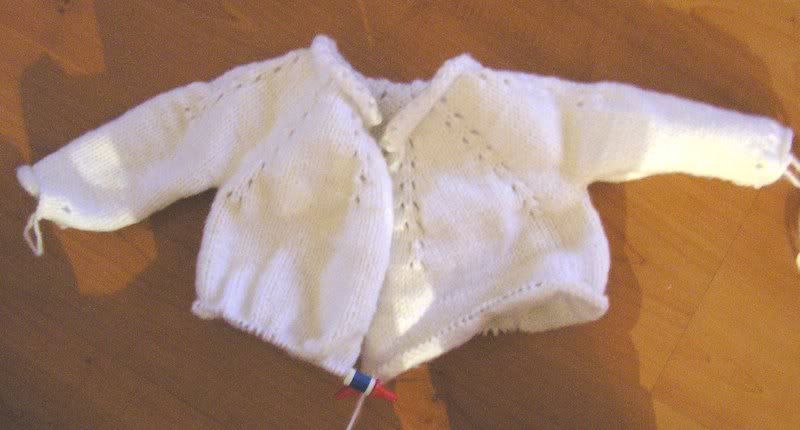 Lucy's baby jacket -
tedious as explained before.
I'm on row 24 of 36 before a few rows of pattern, some finishing and that's it. The finishing on this one isn't going to bother me. Simple stitching on the arms. The neck, waist and cuffs will be folded inward and the holes you can kind of see will be folded in half and become an easy scalloped edge.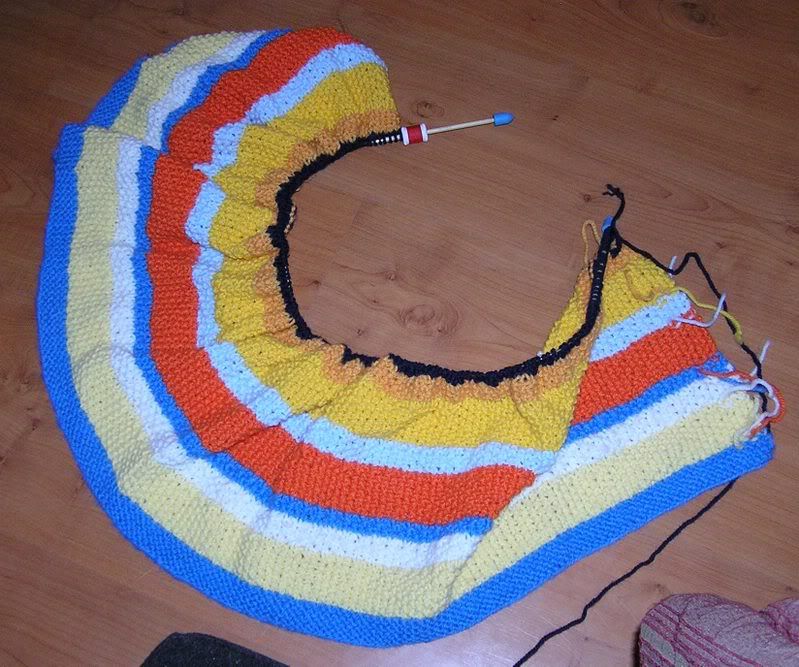 The beach blanket :) I love this one. It's nice and loose on the needles (unlike the baby jacket. I used to be a much tighter knitter.) The color changes motivate me through the potential monotony which so far hasn't surfaced. This is my first project using Continental - nearly a requirement for seed stitch - and what a delight. I actually like the feel of the yarn even though it's partially acrylic. The colors themselves are fun. I'm almost to the end of the first repeat of five. I've been planning on taking a skein to my LYS for a comparable yarn in a different color - reds, green maybe.
Lucy's baby blanket - This might be the first project where I actually felt sadness upon completion. I was so intent on finally finishing it, yet a day or two later I thought to myself, "Oh! I can go knit Lucy's blanket." In a split second I was saddened when I realized it was already off the needles. I don't recall ever feeling that way about a project. Usually it's, "eh I have ____ to knit." So that's the knitting part, the finishing however has me frustrated. You can see them on the left-hand side of the pic - two rows and a partial. Plenty more to go. The bullion knots don't stay likely due to the lace. To compensate, because I HATE going back to secure each and every knot, I've come up with a four-step process: Create knot, put needle on longer tail, needle up through lace and down through knot, tie off. This not only secures the knot but leaves only one knot on the wrong side - a bit tidier.
Two projects not pictured: Linen Tube Clutch - yarn purchased just not on the needles yet. Yoga bag - hate it. Difficult lacy pattern I never got the hang of. Plenty of mistake rows but I'm not much of a frogger. Needles were never long enough for all the stitches. The soft lime green cotton yarn will soon become part of my stash. Be gone you!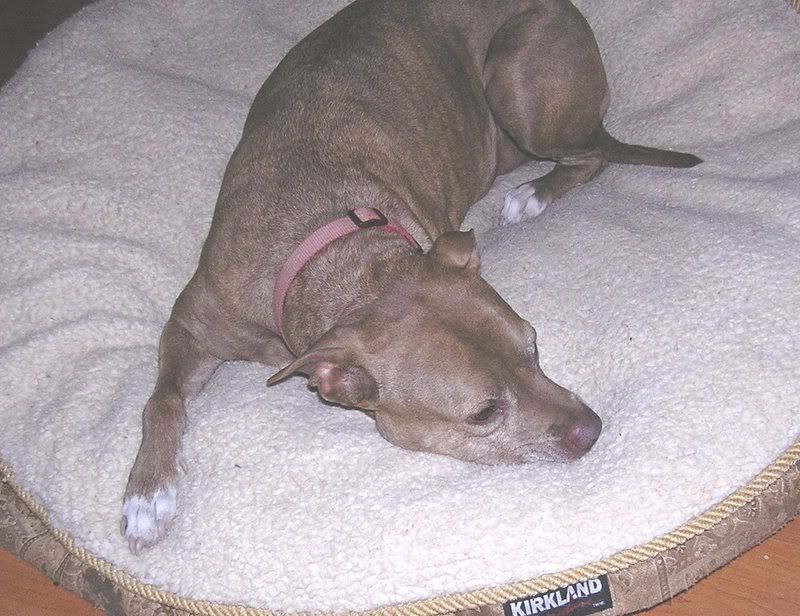 And here's my little Ronnie. She's been a little out of sorts for the past 24 hours. While we were at the race track she was home with the roommate when the wind started up. She's a little bit of a scaredy cat when it comes to the howling of the wind and the clanging of the blinds. Had I been at home with her I would have comforted her and babied her through the storm; assuring her everything was okay. Roommate wasn't aware that the ominous but loving pit bull was afraid of something. By the time we got home and realized that she was scared, she was shivering visibly and panting with her tongue hanging all the way out. I cooked dinner with her at my feet; a towel on the floor to catch the drool. (Normally not a slobbery dog.) When I went up stairs she heeled beautifully - not her style, she's usually first to the top. Then this morning she was still a little shaken. G took both of the dogs today while he ran his errands. She's fine now, just a little worn out from all that stress.