These Days by
Nico
is one of my favorites I forget that I love. From a movie that I loooove - The Royal Tenenbaums. (Intriguing bio there on Wikipedia.) The song itself is haunting or wistful or both, mesmerizing. Not exactly a representation of how I feel these days. I just love it :)
I drove by a new LYS today completely by accident!
Knit Happens
just HAPPENS to be near my salon and PRACTICALLY on the way home from work! It was a beautiful, sunny day today and I should have stopped in but I was running an errand for work and I just feel guilty doing that.
Click on the link to their blog real quick - they have a snapshot of the store and it looks just awesome. There is no way I could hop in real quick on lunch!
A new FO - The
froggy bath mitt
for my nephew. (Yep, still working on Christmas 08) Fun, easy, quick. I'd knit the hand a couple inches longer if I knit this one again. It's just not a comfortable fit; it feels short.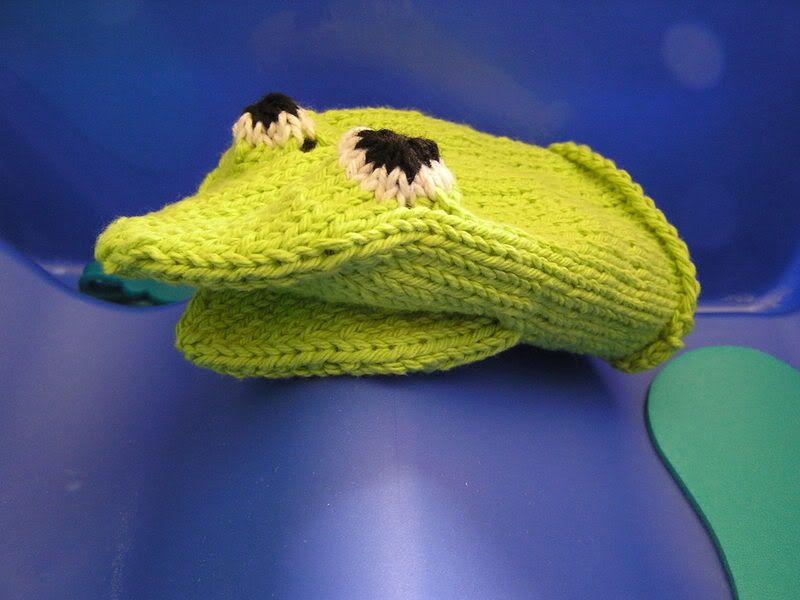 Notice the hole by the eye? Yeah, it bothers me and there's a few other tear ducts if you will. I just figured that's what happened when you picked up stitches and knit. Welllll maybe when you do it wrong. Didn't find out I was wrong until after I was done. My previous method had me knitting INTO the work so that the stitches on the work were pulled wonky on the needle. What I should have been doing was put the new yarn on the needle by pulling it THROUGH the work. I think this will fix some of my problems.
And here's a little Jack for you. He's 5 months now but these pics are about two weeks apart.
He loves his car, handed down from his cousin. He's walking pretty well, jumping which just looks weird and drooling on everything. He's worse than the dogs before they get fed in the morning.
It looks like they added some bumper stickers - Starbucks, Army - I have to go look for our RunGP stickers ....
This is a race weekend. I'd like to finish a second man cap this weekend maybe. We'll see.