I finally dug down deep and got the ball rolling on the finishing touches for my Surface-Woven Tote. I cast off the third and final piece about an hour ago.
A neutral lining material ordered from Reprodepot (plus extra fabrics just for fun...all on clearance. Score!)
Handles - Started the order process with the company suggested in the book. I looked around briefly on a couple other sites, but I'm kind of picky and fell IN LOVE with the handles pictured in the book.

And finally, a totally unrelated on-line pattern for a felted vase. ...to store my needles :)
Today's other purchases:
Size 4 Rosewood needles, straights (starting the linen tube clutch tonight)

Another felting book with another vase pattern, Knit it! Felt it!
Blocking pins, orange and yellow plastic. Not really my style (plastic) but I want to get this blocked TODAY.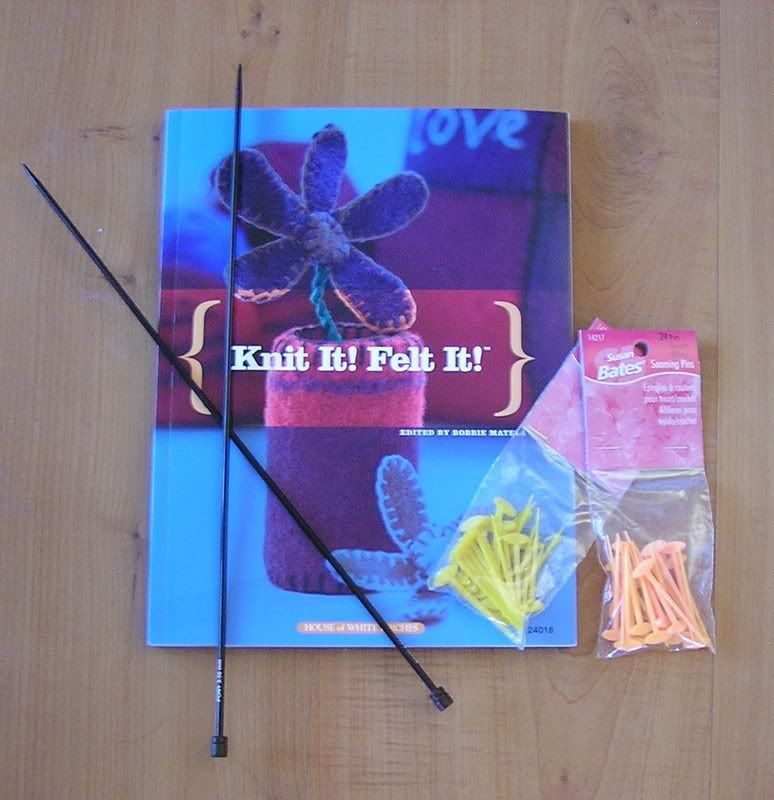 If I'm quick enough here I can get to the blocking before we have to leave. Tomorrow's another track day but this time we're staying overnight in a friend's toy hauler. Somewhat hard to picture but it's like a 5th wheel trailer where the rear is one big drop-down gate. The bike and scooter (the "toys") roll right in, living quarters in the front. Oh, and this morning we picked up our third run of our RunGP T-shirts we'll sell at the track and sport bike shops here in AZ.
A few last comments on blocking:
This is my first time blocking.

I know myself and I know I will not be able to leave it alone while drying.

I know myself and I know I will not be able to wait for it to finish drying.
That is why I need to run go block the tote and hurry and pack.