Ravelry called my name! I'm SheThinksSheCan if you're on ... and when I actually get some stuff up. So far I have my needle inventory up. Yay. Yarn inventory and books come next. I sorted and labeled my bins Thursday when there were only 155 people in front of me. I'm a tad ashamed at how many skeins have lost their labels. I'm learning.
Other good news - BF just got a race bike! He is so giddy and I couldn't be happier for him to get back into racing. This is going to be So. Much. Fun!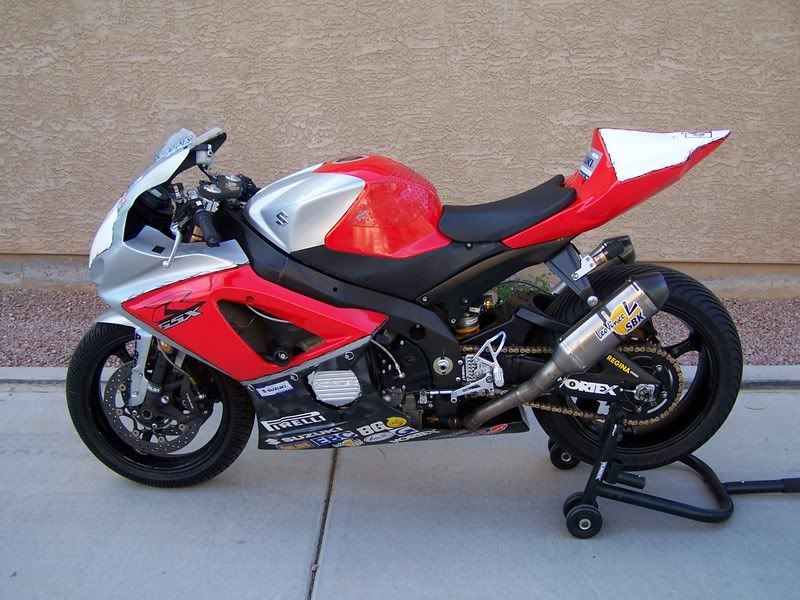 This bike will NEVER be ridden on the road; strictly at the race track. Stickers are in the works. We picked up numbers yesterday and will get a bunch of logos made next week. She'll be pretty when she's all done up :) Lot's more to do before the first races November 3rd & 4th!
Knitting news: Running errands yesterday included a stop at Discount Tire for a wheel balance. I pulled out my blanket and knit a few rows while we waited. (BTW I prefer Les Schwab, aka Schwabby's, but the closest is in LA.) Apparently the young guy at the counter gave G some errrs and ummms. He's never seen that before?? I can't imagine no one has pulled out their knitting in the waiting area. You ALWAYS have to wait at the tire shop.
****EDIT: The deal at the tire store was apparently due to the comp they were giving us despite not being able to locate the original sale in the system. The guy was going to do it for free buuuut probably didn't fully believe us. When G went up to the counter to finish out the sale I was knitting. The guy basically eyed us and shrugged, "They look honest." Which is of course when G found the right phone number for the account and the guy found the original sale in the system.