Little Jack and the dogs gave me a nice respite this afternoon. DH left to have the van inspected by a Dodge tech. Yes, I said van. More on that later when I have pics.
I have two projects on my (belated) gift list that are felted:
Oven Mitt
and
Argyle Pillow
. Since I'm using stash yarn and I'm not up to date on logging it on Ravelry, I pulled them all out of my yarn closet and sorted them by color.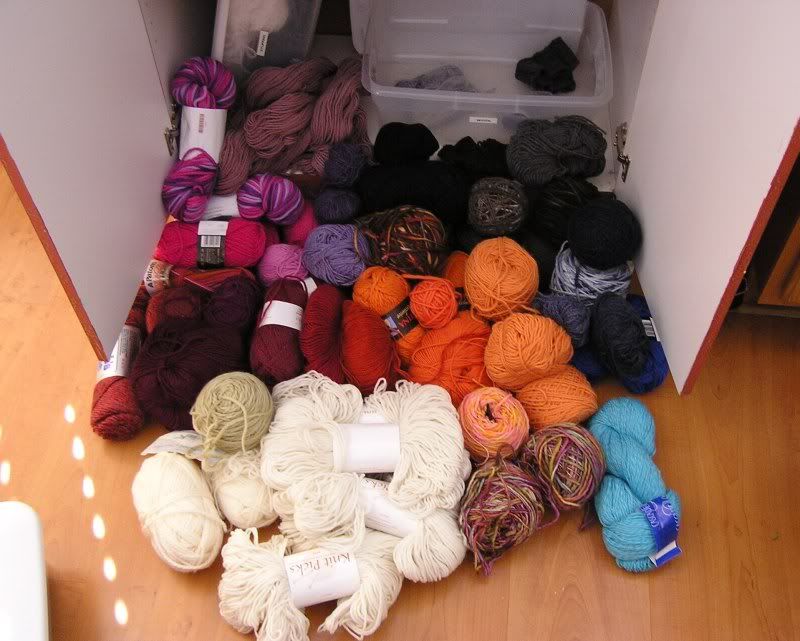 I have a lot more wool than I thought! A nice range of colors too but I think I need some more browns and blues. I might have to go pick up some brown, earthy colored Paton's for the backside of the pillow. I was thinking the multicolored Manos here in the front could work for the mitt but I don't think I have enough unless I double it with a solid. Hmm. I'll think about that. Then for the Pillow, the red Lamb's Pride on the left under the door with the taupe Araucania on top of the Knit Pick's natural. I hear that most whites and natural colors don't felt, how about Knit Pick's? That would work for the pillow or the mitt. HMMMM....
Uh oh, he's stirring. I better put this mess away.