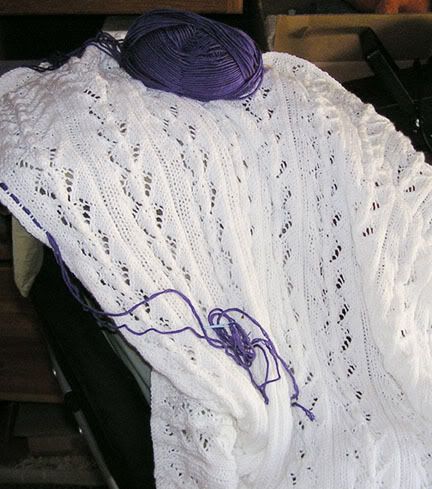 Although awaiting embroidery, I have to share! It came off the needles last night at 10:00pm, measuring 30" by 36" or hopefully very close. I've been working on this "Lilac Loveliness" baby blanket for about two months. It has traveled with me to Portland, OR (to pick up Yellow, a Volvo 850 T5R) and Orlando, FL (trade show). Knitting is my all-time favorite activity on the plane - iPod tuned to Electronica and I'm in heaven!
Embroidery for this piece will be in a deep purple: bouillon knots on the lace and stripes down the purl rows.
I'm a few days from working on this again. A/C is still out and the thermostat reads "Overload." It's just too darn hot to do anything.
OTN: Lucy's baby jacket, Yoga bag