Here are some pics from the weekend. We stayed in Encinitas, northern coast of San Diego and Gianni's hometown.
First thing in the morning we'd get coffee/Apricot tea (I'm off caffeine per the NMD, dairy too) at a quirky little cafe that used to be a train station. Then we'd head off for the early morning tradition of checking the surf. With the marine layer overhead, hot tea in hand and the sun skimming the eastern horizon to warm our backs it was just perfect. After the surf was duly assessed it was time for breakfast. Machaca burrito from the original Filiberto's (*) - yummy, filling and an excellent precursor to a nap. Filiberto's is franchised into AZ, but now I've tasted the difference and there IS a difference.
(* yarn reference below)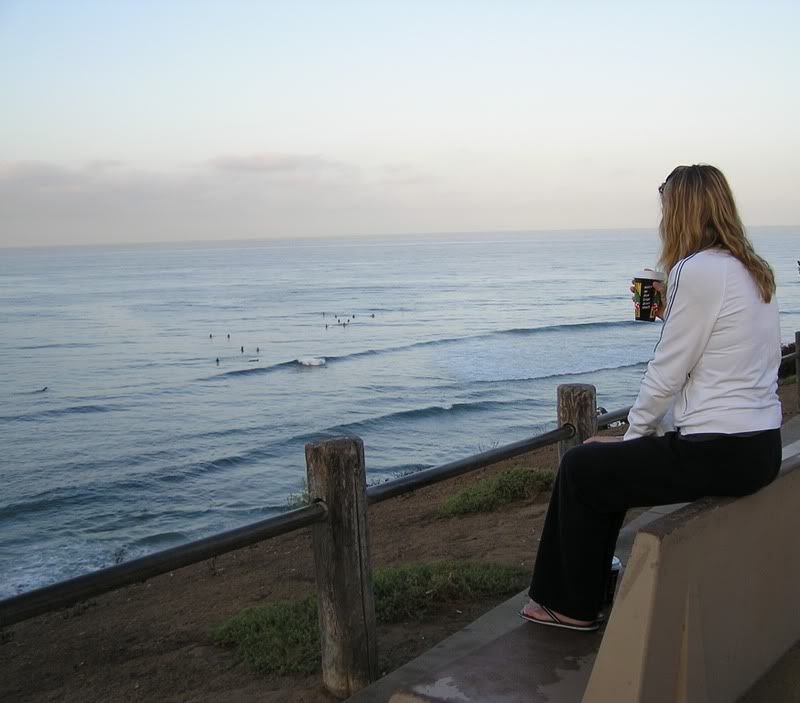 Roused from a nap by the mid-day sun, it was beach time! We played in the waves, well at least I did. Gianni was legitimately body surfing. I could admit I was trying but eh. We laid in the sun to dry off. Perfect weather - not too hot, warm enough breeze, enough sun for a burn-now-turned-tan. On Saturday at Del Mar beach we avoided a parking ticket when Eagle Eyes spotted the park ranger writing tickets. Scooping up our minimalist beach gear in mere seconds and walking rapidly to the wagon felt kinda punk! Take that, Ticket Lady! With all that expended energy it was lunch/dinner time.
Dinner and drinks were always nice. That might sound like an understatement but ALL of the food ALL weekend was just really good. The bars were mostly empty so we didn't run into too many of his friends. Apparently there was some surfing or skating event down the coast a bit so everyone was out of town. We didn't do sushi for dinner this time (pricey) but we picked up a sushi-grade tuna steak at the market before we left town. Sunday night we had sushi before dinner and sushi-style seared tuna for dinner. Wow - now that was good home cooking!
In between the tea and beach and naps and food, we managed to see a few surf shops. Boards are expensive $1000! Even the used ones are $500. I'm excited to learn how despite my lack of balance. Hopefully next year we'll have time (and cash) to take some surf trips.
(*) Hungry for breakfast, we quickly parked down the street from Filiberto's and hurried inside. (
Heather
knows exactly where this is headed :) Gianni was eating and I was gazing out the front window. Two ladies and a man walked by. They didn't catch my eye really, but the bag she was holding did. Semi-transparent tote .... looks like paper in there .... that's not that unusual but .... what's that? Is that YARN??? Oh yeah. We had actually parked directly in front of
Common Threads
. Great little yarn shop that wasn't all that little! Nice corner of Manos. Most of the yarn looked to be sorted by color. So pleasing to the eye. Ahhhh. Over the weekend we repeatedly drove by another yarn shop,
Black Sheep
, but I didn't want to press my luck. We'll be back in Encinitas soon enough.
So, sooo relaxing. Definitely what I needed and I'm feeling much better. I'm sticking to my temporary schedule for the next few weeks, maybe a month. Four hours a day and Fridays off. I'd actually like to get another San Diego trip in before the sun and surf get too chilly. The moderate temps on the coast are more conducive to healing the kidneys and I've been told adrenal exhaustion is your body saying you need to have fun. San Diego fits the bill. Don't know why I'm still in the desert.