I totally spaced and thought I had posted after the first race weekend! Where was my head?
After every race weekend and track day weekend all the racers post a few paragraphs to their community forum on how the weekend went, who helped, what they learned, yada yada. Here's mine :) and I'll keep it short cuz I've forgotten some details.
Friday night kicked off the race weekend. We loaded his bike and my scooter onto the trailer, loaded up his Volvo wagon and trucked on down to the track. All was great until we hit ridiculous traffic and inched along as the sun set. Finally at the track we unloaded and then helped the guys set up the trailers where we would be pitting. Without instructions and very little light we erected an awning the size of a circus tent. Parked all the bikes and tools underneath, zipped the sides on and left for a good night's sleep.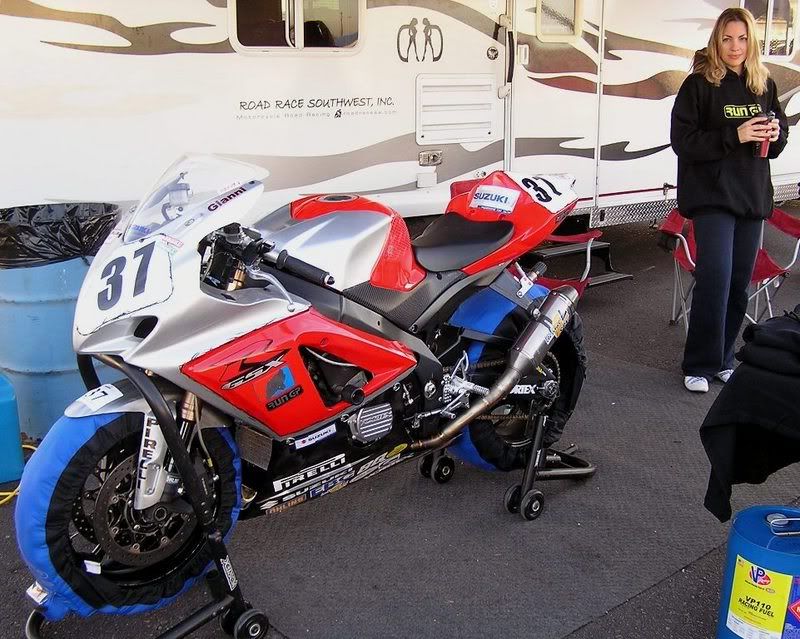 Selling shirts early in the morning. Shirts are just outside of the frame.
This pic is actually from the weekend before the race.


Saturday was an early morning as they always are. G barely gets 5 hours of sleep on a regular night but on the eve of a race OR track day - almost none. So we were up about 4:30am, at the track by 6am. Most of the time on track days I don't get up into the stands to watch. I'll wear myself out too quickly with the back and forth, up and down. So I sit in the pits and knit and sell shirts. The project of the weekend was the Picot Felted Vase. Easy and small. No significant events to speak of - just an average track day. Well... Donny crashed, Wil crashed and Joey crashed twice but still they all got up and raced the same bike on Sunday.
Race day - The pits are a lot more tense than track days but still fun to be a part of. (No chance to pull out my knitting but I thankfully got a much needed nap in the trailer.) My job in the pits is tire warmers off and on, rear stands off and on, water, food, and generally being there to help G and the rest of the guys. Basically anything to make it easier for them. I thoroughly enjoy it. G did very well on his first race weekend in almost a year - a 2nd, 6th and 7th. Every race he tallied points and has 37 going into the last race of the year. Coincidentally, his race number is 37.
OH. MY. GOSH. I totally forgot to tell you about my ride on the track! End of October. I think I was waiting for pics which I still don't have but I loved it! They call it 2-up because I rode on the back of an instructor's bike. Wow! Exhilarating! I borrowed leathers, boots, helmet and gloves and got on the bike. The trainer's bike has an extra seat like street bikes but also has handles welded onto the tank. Thank goodness. On the straight we were going so fast - 145mph!!! For comparison, my bf gets up to 190mph on the straight. Unimaginable. Braking at the end of the straight was the only scary part. That includes the hard lean angle (remember they drag their knees) and the "pancaking" which is going quickly from a right-hand to left-hand turn. I took about 5 laps, 3 of which were on an empty track. Just before we got off the track we got lapped. Weird to feel them whoosh by. G would have lapped us too but he ran into a helmet problem. A piece on the side of the helmet was duct taped on (felt loose) but was partially blown off on the first straight. He had to pull off the track and tuck it in his leathers because it was
in front of his eyes.
At 190mph
he couldn't see.
Out of breath and sweaty, the first thing I did when I got back to the pits was call my mom. Poor thing. I'm not a bad daughter but I still think I put her through hell.