Mom,
This is your Christmas present (2008). I know you've already read about it and that's my fault. I tell you to go see my blog yet I post details of all my Christmas knitting. Now that you're on Ravelry, too, I will post in code from here on out when knitting gifts. ...well, starting after this post.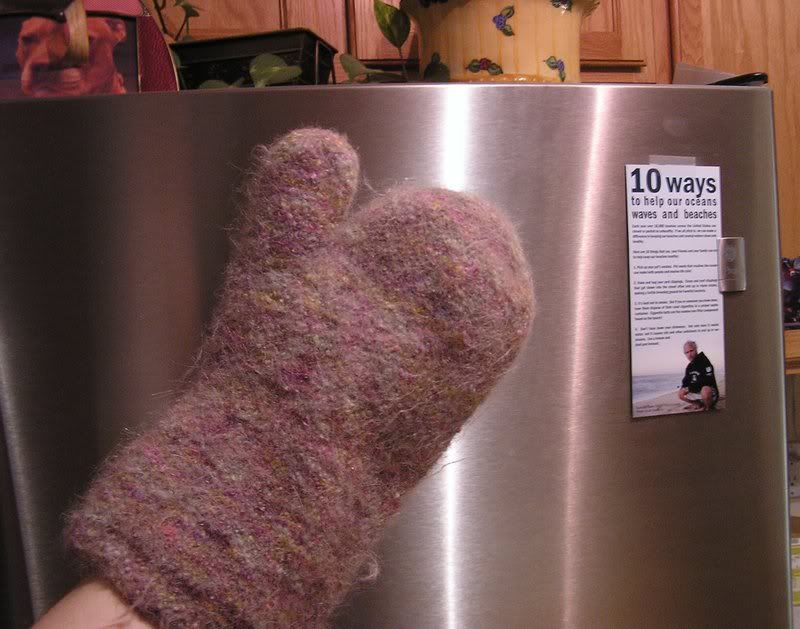 Here is your Felted Oven Mitt! The card taped to the fridge is from the Surfrider Foundation. Big G donated and got a bunch of cool bumper stickers and this handy little card. Little G loves to stare at it.
Remember this yarn? I think you made a Lucy Bag for FR and this was the leftover. Beautiful Manos colorway. I doubled it with a dusty rose (I know you hate the color and the name of the color but it matched beautifully) from Creative Focus. Pricier wool than Lamb's Pride, but that's what Jessica Knits stocks. Next time you're here we'll catch them on a day when they're open. Cute little shop.
Look how close I was to running out of yarn. I was seriously sweating bullets. That ONE STRAND is all that's left of the Creative Focus. *wipes brow* Jeez.
And I'll go out on a limb here and vote this pic as your favorite. It's the pre-felted mitt in it's over-sized glory. No? Not your favorite? Why in the world, you ask, would I take a pic when it's huge and disproportionate? Well, two reasons: 1) This was its home for weeks. Probably the same time frame in which Peggy was knitting her Felted Oven Mitt and attempting to felt in her front-loading washer. (Peggy - this piece was the most difficult one I've ever felted. More than THREE full cycles!!!) 2) Take a close look at the colors. I started on the first ball and loved the bright colors. Moved to the second ball and was disappointed that the colors didn't pop like the other ball. Couldn't tell in the balls and still can't in the finished piece. Guess it works!
Here's a little treat for you. Just another Christmas gift (2008) I'm working on (for J, I think). I finished the Tudora (orininally for her) but I really wanted to start these Noro Mitts. I'm supposed to be part of a KAL (knit-a-long) but I am most likely waaay behind everyone. I have frogged this piece too many times. Once with just 4 rows remaining. I'll try to catch up - I have a trade show to go to in LA. Just an overnight trip but I'll have a lot more time there than I do at home. My goal is to at least finish this one and start on the next. The last bit of finishing news: I blocked one more piece of the Surface Woven Tote. I would have done the whole thing but I ran out of pins.
When I get back I will make an extra effort to get your mitt out in mail. Hopefully by then it will be dry. (That sucker is thick!) I'll probably call you sometime today to get you to come read this :)